Wes Harms continues his Major Titles journey with Red Dragon

2015 England Open Champion: Wesley Harms

Results up to and including September 29th2014.
Wes Harms continues his Major Titles journey with Red Dragon
Wes Harms - 6 foot 4 Dutch Destroyer and BDO World Ranked No.5 has agreed a new contract with Red Dragon Darts that sees him working with the World's fastest growing darts brand into 2018.
The WDF World Cup Singles Winner and twice Lakeside World Championship Semi Finalist has exactly what it takes to succeed at the very highest levels in darts.
His powerful, clean and accurate throw has seen him capture the French, English and Swiss Open Championship titles and he will continue working with Red Dragon in his quest for more Major Titles.
Wes explained "Since joining Red Dragon in 2009 I have not looked back, my confidence and form have never been better and it's a real honour to be supported by one the most technically focused and modern Darts Brands in the World Today".
Simon Hall Head of Marketing said "We are very lucky that we get to see so much of Wes playing over here in the UK, but it's incredible to see how popular he is back in his home country of Holland and we are privileged that Wes has chosen to stay with us as he grows into becoming an even bigger International Superstar".
Wes plays under the nickname Sparky because he was an electrician before turning Pro, and is undoubtedly one of the most exciting talents on the Pro Dart Circuits today.
His darts can be found at all good Dutch Darts Retailers and Red Dragon Darts.
Red Dragon is Distributed Exclusively in Benelux by K-Sport Supply.
2015 England Open Champion: Wesley Harms
Wesley Harms successfully defended his England Open title after beating BDO number one Glen Durrant 7-5 in the final on Sunday.
Harms came through a battle in the semi-final against Scotland captain Ross Montgomery, winning a deciding leg for a 6-5 victory, while Durrant was dominant in defeating Dutchman Richard Veenstra 6-1.
...
Despite coming in as defending champion, Durrant came in as favourite on the account of his highly impressive form in 2015. Despite the Teessider's early advantage, Harm's was able to claim the £5,000 winner's prize with a 7-5 win – helped with an average of 100.74.
Source: http://tungstentickle.com/harms-defends-england-open-title/
Photo courtesy of: England Darts Organisation
Results up to and including September 29th2014.
Despite a year that brought many problems for Wesley, he started the year with a positive mindset and the year so far has been good with some great opportunities to make it a memorable year.
Wesley continues to receive great support when appearing in England and always enjoys playing here; he sends his thanks for this ongoing support as always, it means a lot to him.
He has had success not only in overseas competitions but at home, together with his colleagues from Kjelvik darts who won the Super League for the 2ndconsecutive year. His results this year include the following finals, Hal Open, Belgium Open, and most recent the English Classic at Selsey, narrowly missing a unique double on the circuit after winning the England Open in June. Semi finals include England Masters and Denmark Open. Current BDO ranking is 7, just 23 points off the top spot.
Wesley also qualified as Number 1 seed for the current Zuiderduin Masters which as a Dutchman and a North Hollander made him Extremely proud, it was this tournament that started his international career. Also Wesley will retain his World title won in the WDF world cup in Canada in 2013 until 2015 and qualified for the 4thsuccessive time for Lakeside as 7thseed.
Well the 41st Winmau World Masters is close and Wesley will be arriving in the UK on Thursday to travel to Hull to play in this yet again, the beginning of a busy few months for SPARKY. Let's hope that we have a lot to celebrate by January. Wesley is still seeking extra sponsorship and any UK company's interested can make contact through the contact page on this website.
Listed below are a number of notable televised tournaments with possible channels and/or live stream link.
Winmau World Masters October 9th- 12th
(can be watched online via Winmau TV )
Grand Slam of Darts November 8th– 16th
(can be viewed on Sky Sports or RTL 7 )
Zuiderduin Masters December 5th-7th
(Can be viewed on TV-NH)
Lakeside World Championships January 3rd-12th2015
(Eurosport and BBC)
SPARKY can be seen in all these events.
Sparky wins the World Cup Men's Singles darts title
Wes Harms beat Steven Bunting by 7 – 6 to claim the World Cup Men's Singles darts title in what was an intriguing tug of war battle.

Having beaten World No.3 Tony O'Shea by 6 -2 in the Semi Final in another high quality encounter The Dutch Maestro was hotly favoured and Harms got off to a flying start, catching Bunting cold moving 5 – 1 up before Bunting could blink. However, such is Buntings current pedigree as the BDO's World Ranked No.1 that he soon fired off 4 rapid legs, pulling the game back to 5 -4.

Wes slipped a solid 15 dart leg to go 2 legs clear, but it was Buntings turn to fire straight back with 2 rapid legs in succession leaving the match poised at 6 – all and a Bull up for the deciding leg.

Wes Won the Bull and went straight off with a Ton, that Bunting couldn't match, then back to back 140's from Wes saw him go way clear leaving 121 that he clipped the wire for, retuning to nail double 9 for the title in 13 darts.

A clearly emotional Wes Harms looked to the sky and cross his chest before embracing Steve after what was a superb final played by 2 quality players.

Wes said "I've had a really tough year with some changes going on, and I haven't had the time to dedicate as much as I'd like to my practice. However, the last few weeks have been more normal and I've done some really good work on the practice board so I came to Canada confident again, and I'm over the moon to be the World Cup Singles Champion especially beating Stephen who is the current ranked BDO World No.1"

Wes moves no to the Winmau World Masters this Friday where if he wins his last 32 match he may face Mr Bunting again, you can tune in everyday LIVE to the Winmau World Masters on Winmau TV and Eurosport on Sunday.
Date : 08-10-2013
Sparky in WK dartteam Netherlands 2013
Remco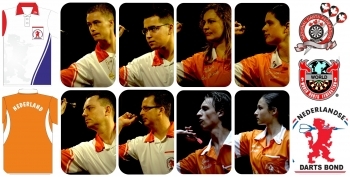 Aileen de Graaf, Sharon Prince, Remco van Eijden, Rick Hofstra, Wesley Harms and Benito van de Pas will represent the Dutch seniors team during the WDF World Cup in Canada. Sharon Jansen and Quin Wester will come true at the youth. This is the outcome after an extensive selection process within the technical staff of the NDB.
The first choices made were related to the women's team. Aileen currently performs the count both nationally and internationally and performs great as current Dutch champion also this year the island and Vancouver's seawall. Also internationally as the highest Dutch lady, she is listed on the rankings. Sharon Prince will work with Aileen travel to Canada. Sharon also performs internationally well and seems to be getting closer to the International Summit. The Zoetermeerse makes for years part of the women's selection and this year reached the semi-finals of the Lakeside.
The men will include current Dutch rankingchampion the Dutch team shirt to go Remco van Eijden. Remco won the Switzerland and Austria in recent months Open this year and made part of the successful Winmau Six Nationscup Team. This also applies to the others, including Wesley Harms and Benito van de Pas. Both continue to perform well internationally and have their qualities even though proven several times on behalf of the Dutch team. The men's team is complete with Rick Hofstra, which achieved excellent results on international tournaments in recent months. The experienced Fries played a fantastic Winmau Six Nations Cup and knew the German Gold Cup win this year including nine DART finish. During the World Cup will play the couple Remco van Eijden tournament with Rick Hofstra. Wesley Harms is a couple with Benito van de Pas.
The choice at the youth are so cases on Sharon Jansen and Quin Wester. Sharon is the current Dutch champion (ranking and GNK) and also carries now the rankings again. It will be the experience of two EUROPEAN CHAMPIONSHIPS played youth tournaments bring to Canada. Quin's palmares is so far impressive. In addition to profit on the zuiderduin Masters 2012 and 2013 is the Dutch Open Darts he recently crowned WDF European Champion (team, pairs and single). It will be given its age his first and last World Youth Championships. This also applies to Sharon.
The NDB, partly thanks to this powerful Setup, forward to the World Championships in Canada. The tournament will take place from 1 to 5 October in St. John 's, Newfoundland and is organized by the WDF in collaboration with the Canadian darts bond.
Off course the NDB personally informed the entire selection.